Every supply chain is different and every fresh product has different postharvest and storage requirements to keep it healthy and fresh from farm to retail store or for perishable pharmaceutical and biotech products from processor to health professional.
QPod Systems Limited offers tailored extended reach temperature control solutions that optimise supply chains in new and efficient ways.
The company utilises QPod innovations and knowhow in cargo technology and logistics to deliver solutions for customers designed to increase their profit margins and grow their business.
The resulting QPod solutions are configured for a customer's application to the specifications, functionality and duty required at an affordable price.
QPods provide superior temperature control through the supply chain. Precise temperature control is important for highly perishables, when storage at 1°C above their recommended temperature can contribute to a 10% loss of shelf life.
Competitive advantage:
The QPod™ is a new product category designed to cater for the unmet needs of a variety of users. It combines a number of innovations to provide a range of significant economic and practical benefits to users at all stages of temperature-sensitive supply chains. As a result, competitive advantages can be gained from a large variety of market applications.
Important trends:
The distance between where food is produced and where it is consumed has increased.
Today's market is demanding reusable packaging, fresher healthier foods year-round and high value added perishable products be shipped in smaller consignments of greater frequency with just in time supply lines. Consequently this is placing greater demands on the Cool Chain for more efficiency, smaller consignment volumes and better temperature control.
The integration of the way cargo is transported and its presentation for sale is merging.
These trends are expected to continue and are positive for QPod™ use.
SALES AND SERVICES
QPod Systems Limited offer the following sales and services:
QPod rental to customers who prefer to outsource their freight and logistics requirements;
QPods sales to customers requiring total ownership; and,
QPod technical support services.
Supply chain consultancy.

Market validation
Technical assessment of supply chains
Supply chain cost return (baseline) and improvement analysis
Business model optimisation and risk analysis
Design and implementation of quality systems, training and incentive programmes.
Generally, traders of perishable products prefer to outsource their freight and logistics requirements in order to focus on product procurement, processing and marketing. Exporters may not want to own QPods for the same reason that they don't own sea or air freight containers. This is not their core business and could be considered an inefficient use of resources.
Ownership of specialised cargo and packaging systems such as QPods and IBCs (Intermediate Bulk Containers) is a difficult proposition for exporters to a foreign market in terms of organising recovery, management and tracking of equipment. A rental/hire pool is a better fit for many QPod™ customers than ownership because a rental/hire company increases the cost-sharing opportunities such as relocation costs and can improve equipment utilisation and efficiencies.
QPod Systems provides strong competencies in asset management, cost control and relocation matching.
POINT OF DIFFERENCE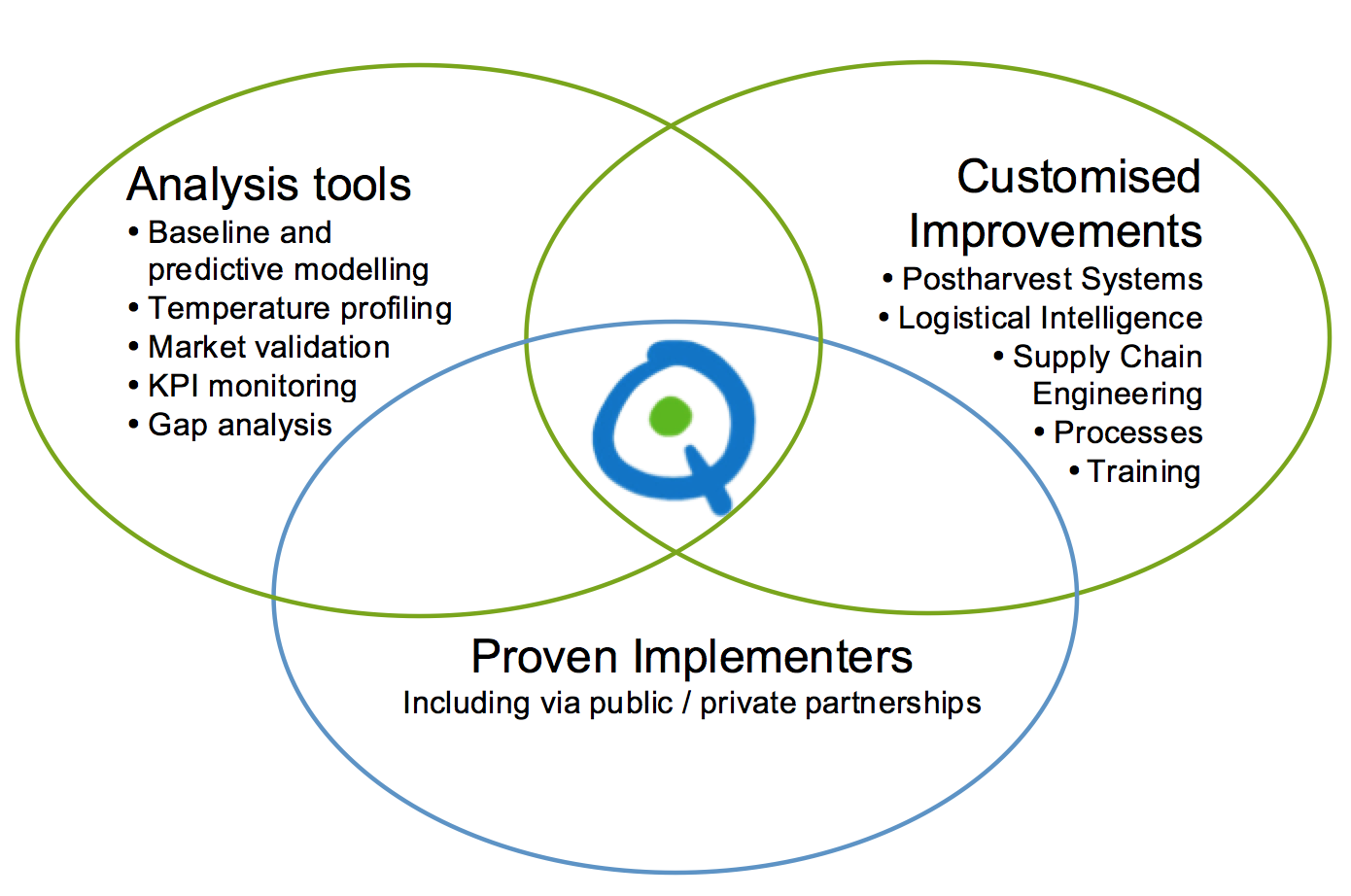 Our point of difference arises from our ability to integrate and scale supply volumes and transform marginal businesses into profitable sustainable ones. This derives from a combination of:
Analysis Tools for supply systems (quantifying the total solution benefits for key stakeholders under different scenarios: including economic returns, product, packaging and process performance, product quality outcomes, total carbon water and waste footprints)
Tailored technologies (refrigeration solutions – extended reach throughout the supply system; training systems)
Proven ability to implement (including via public / private relationships with enabling stakeholders)
Background
QPod Systems heritage resides in 27 years of R&D into extended reach refrigeration transport and packaging system for perishable goods.
This work as resulted in leading developments one example is our new LCL refrigerated pallet system, which provides an integrated flexible end to end solution.  Each pallet has its own temperature there are no breaks in the cool chain and no hot spots within the load.
The system makes it possible to access to new markets, provides greater transport flexibility and allows traders to be more efficient in existing markets.
Today we utilize a suite of technologies including proprietary supply chain analysis programmes, advanced monitoring, quality assurance, business optimization and training systems in our consultancy.
Coming from a background of discovery and development, we are experienced in investigating supply chains, managing project risks and uncertainties, de-risking projects and tailoring improvement solutions for our clients. We excel in challenging projects and environments.
We are able to integrate the aspirations of stakeholders with seemingly divergent interests. Our focus is in securing quality through a unique combination of technologies and knowhow. We focus on creating value.