GLOBAL VISION
We have designed QPods to:
be an effective means for the food industry to significantly reduce spoilage in the supply chain;
provide new opportunities for efficiencies – including the potential to bypass distribution centres and save costs with direct deliveries to retail stores.
In the next ten years we plan for QPod™ mini containers to become the industry standard means of transporting pallet module sized consignments of highly perishable foods, flowers, biotech and vaccine products which the world is demanding.
We will develop organic controlled atmosphere systems to extend the storage life of many types of fresh foods beyond that possible by refrigeration alone and apply this technology to the QPod™ delivery system.
We are currently working on technology which will make it possible for QPods to run on solar power and in the future we aim to replace chemical treatments for insect infestation with organic atmosphere treatments. This has the potential to facilitate growth in the export trade of organic produce. Development of reusable product packing systems is also high on our agenda.
We plan to expand our work with leading international expertise to ensure the latest technologies and thinking is applied to our business. We have a strong interest in growth and have developed sophisticated financial and management models for this purpose. The Company plans to finance its future growth from cash flow, future share offers and structured financing as demand requires.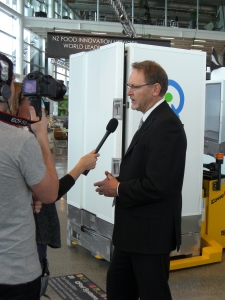 Recognised in 2011 as one of New Zealand's World leading innovations
Much of New Zealand's export success is due to a focus on quality and a long history of Kiwi innovation and perseverance. About 80 percent of the food we grow, produce and manufacture is exported. "The 1882 voyage of the Dunedin with its cargo of frozen meat has been described as a turning point in New Zealand's history. However, sparks from the engine that drove the refrigerating machinery set the ships sails alight twice. When the ducts for cold air that keep the cargo frozen became blocked, the captain crawled down them to clear out the ice. By the time the ship reached London, he was – not surprisingly – described as looking overstrained and weary." Despite all that, the shipment was a success and the innovation changed the way the world shipped perishable food.
More than 100 years later, that tradition of science and ingenuity continues and is being celebrated at the NZ Food Innovation Showcase over three days from October 16 to 18 at Auckland's Viaduct Events Centre.
Visitors will see, sample and enjoy the country's best and, newest food products and explore the technology that ensures safety and quality.
"New Zealand has fostered a culture of people not afraid to push the boundaries of science and innovation. For many of us this is ingrained into our psyche. What we lack in financial resources we make up with determination and persistence," says Paul Bosher CEO QPod Systems which is exhibiting what Mr Bosher describes as something which may change the way in which the world ships highly perishable foods to market.
"This Kiwi innovation overcomes the problems of breaks in the cool chain, temperature compromises and hotspots," he says.
NZ Food Innovation Showcase – The best we can offer is on show, Food Technology News, extract www.foodtechnology.co.nz
World Class New Zealand Awards
Paul Bosher, CEO of QPod Systems, attended the sixth annual World Class New Zealand Awards at the invitation of the British Consulate General in April 2009. Seven of New Zealand's business elite were honoured with rewards. Richard Taylor won the Supreme Award for his company, Weta Workshop, responsible for the artistic creativity including production of sets, props and costumes for Lord of the Rings and many other internationally acclaimed films. He attributed his success to four key qualities: "passion, enthusiasm, tenacity and talent in that order". There is a lot to learn from these and other members from the growing pool of world class achievers identified by KEA at the New Zealand Awards. QPod Systems prides itself on the four skills identified by Richard: passion, enthusiasm, tenacity and talent. Since the days when New Zealander Ernest Rutherford split the atom and inspired a history of innovation by his fellow countrymen – from digital photo imaging systems used by NASA, to plastics which carry currents, to low oxygen packaging systems which preserve meats – QPod Systems is determined to uphold the reputation of a great national brand: "smart people who get things done."
Rebecca Turner, Independent Financial Analyst
Quality Assurance
"Modern day quality assurance, as it applies to both human and animal health biological products, requires that they travel all the way at temperatures which lie between two and eight degrees centigrade. Few if any of the methods which we use at present can be relied upon. There are still considerable opportunities for a reliable refrigerated container for transportation globally. Current systems may work if all goes to plan and there are no delays, or offloading takes place where environmental temperatures are very high. QPods specifically adapted to this high volume, high value distribution would, I am sure, be well accepted."
Dr Ralph Slaughter (Ph.D Veterinary), International Animal Health Biological Products Business Development and Distribution Consultant
Urban Drift
More people lived in cities than the country for the first time in history in about 2005 according to the UN and this trend seems very unlikely to change baring epidemics or other such catastrophe. This greatly increases the importance of logistics systems able to take perishable products from where they can be produced to where they need to be consumed. Timing is crucial with new technologies. The QPod™ system is the technology for this development, both in developed countries and in the teeming cities of Asia and Africa where product losses from paddock to plate are thought to average 30%. John Leake, CEO, Institute of International Development, Australia and QPod™ Systems shareholder.
John Leake, CEO, Institute of International Development and QPod Systems Shareholder
 The Environmental Footprint Your Salad Bowl
There is much discussion along the Australian Riverland about the need to conserve water and it seems highly likely there will be increases in power and fertiliser costs due to the need to pay to offset the carbon emissions of these vital inputs. This will place even more pressure on farmers to reduce waste. One significant source of waste is product dumped due either because of breaks in the logistic chain or because ripe fruit cannot be picked because only green product can be safely taken through the existing logistics systems.
The QPod™ system offers a technical solution to these problems but as the beneficiaries are distributed right along the value chain it is necessary to prove the benefits to each participant; the grower, the transport operator, the insurance company, the merchants, retailers, the customer and of course the environment that underpins our salad bowls. Many of the benefits that will drive this revolution in perishable product transport will be financial.
John Leake, CEO, Institute of International Development and QPod Systems Shareholder
Agricultural Economist's View
"I have undertaken a study into the economic feasibility of a global QPod™ hire business and of a company generating royalties and license fees from the sale and hire of QPods internationally. This work has involved quantifying the potential world market for QPods and making assumptions on future sales and operating expenses for the related businesses. It is my opinion that QPod™ Systems' business is potentially highly profitable assuming the product can be brought to market in the right form and price range".
Philip Taylor (M.Econ) Economist, Department of Manufacturing Innovation Trade, Resources and Energy, Primary Industry & Resources, South Australia and QPod Systems shareholder
Scientist's Opinion
"QPod™ offers an excellent solution to the problems inherent in shipping mixed produce in overseas and even in some domestic shipments. Historically mixed load of fruits and vegetables have been shipped together at compromising temperatures that are ideal for only a small portion of the total load. The QPod™ technology can overcome these difficulties. It's about time!!"
Dr. Richard E. Woodruff (Ph.D Hort), Retired, Post Harvest Physiology Scientist, Arizona, USA and QPod™ Systems shareholder